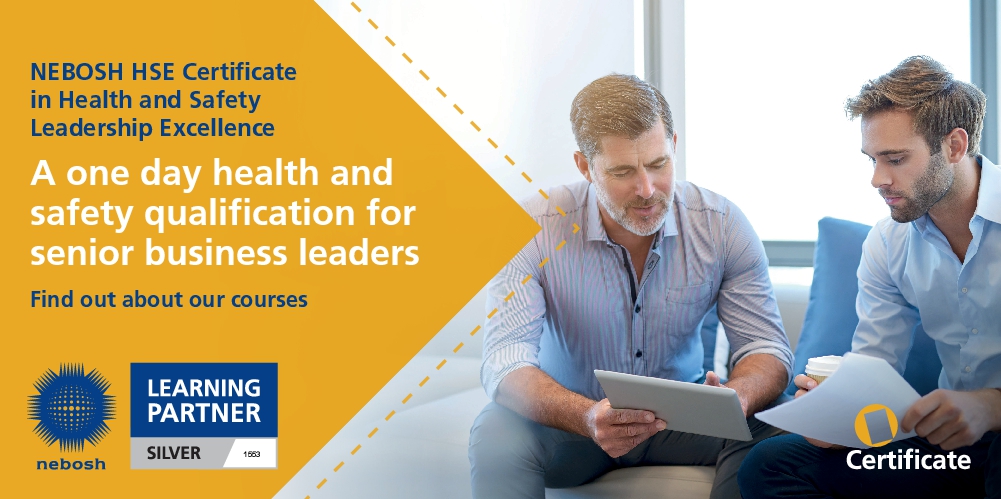 Join SHE Advises for our open NEBOSH HSE Certificate in Health and Safety Leadership Excellence course for the gold standard in Health and Safety qualifications with our chartered professional tutors.
Developed jointly by NEBOSH and the HSE, this course is interactive and thought provoking. The course highlights the moral, legal, and financial reasons for good health and safety leadership. It offers guidance in the key areas to focus on to make a difference and how leaders can become better advocates and influencers in relation to health and safety.
Employers will gain a number of benefits from giving their business leaders the opportunity to take this qualification including:
Leadership that reflects HSE's model of effective health and safety leadership.
Health and safety will be factored into business decisions in the future
Leaders who recognise how their own behaviours impact on health and safety culture
Organisations who invest in their health and safety leadership will send a clear signal that they take the protection of the workforce seriously. This qualification will help senior or aspiring leaders to ensure that health and safety is taken account of in all business decisions and becomes a day-to-day activity rather than leaving the management of health and safety up to one individual or department.
The course content covers the following topics:
What health and safety leadership means
The business benefits of health and safety leadership including the moral, legal, and financial arguments.
The effects of good health and safety leadership of safety culture.
What the different leadership styles are
How human failures can impact performance and culture
The HSE's 'Make it happen' model.
How leaders can build effective relationships with the workforce
Course dates:
6th March 2024,Ipswich
14th November 2024, Ipswich
Course Times:
Course cost: £275 + VAT per person which includes registration fees, course materials, NEBOSH book and accredited certificate from NEBOSH.
Book Now