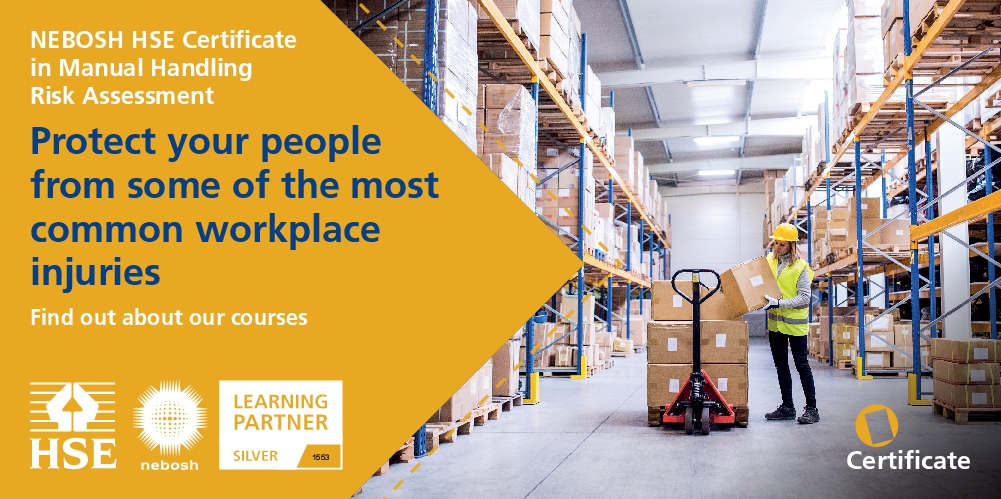 Join SHE Advises for our open NEBOSH HSE Certificate in Manual Handling Risk Assessment course.
NEBOSH and the Health and Safety Executive (HSE) have partnered to develop a new qualification aimed at preventing one of the main causes of musculoskeletal disorders; manual handling.
This is a one-day qualification, based on HSE's best practice guidance and tools. The content will help you to identify and assess manual handling risk, and more importantly, prioritise controls to protect workers.
The qualification is suited to employers and employee representatives who want to start assessing manual handling risk in their organisation and implement effective control measures. It will also help those already involved in managing manual handling risk, to deepen their understanding of the subject, and train in the use of specific HSE manual handling assessment tools.
This qualification will help you to:
Explain the importance of reducing risks associated with manual handling activities.
Understand responsibilities in relation to manual handling.
How to assess risk factors using HSE tools and guidance.
How to evaluate the risk in a proportionate and sensible way.
Apply wider elements of risk management for manual handling
Using this qualification to build in-house expertise will help organisations:
Protect team members from one of the main causes of musculoskeletal disorders.
Have confidence as your team will be trained in HSE's current approach to manual handling risk assessment.
Ensure your organisation has valuable in-house manual handling risk expertise.
Upskill your teams so they can carry out manual handling risk assessments to the right standard and identify where specialist input is required.
Create a safe and healthy work environment.
Course Dates:
14th May 2024, Ipswich
20th November 2024, Ipswich
Course Times:
Course Cost:
£275 + VAT per person which includes NEBOSH registration fee, any course materials and accredited certificate.
Book Now